COVID-19: We're committed to continuing to support you with updates, relief measures, and helpful information. Learn more.
Stay connected: Sign up to receive updates directly to your inbox.
B2B Bank is a leading provider of banking products and services to financial advisors and mortgage brokers across Canada.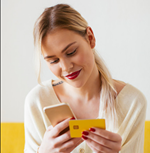 We work with various financial professionals and are looking forward to doing business with you too.
Contact a Business Development Manager to get started or view our workflows to learn about how to submit your business to us.
Solutions for your clients