B2B Bank
Guaranteed Investment Certificates

Guaranteed to keep what's invested plus interest, consider a B2B Bank GIC as part of your well-balanced portfolio.
To fund your GIC, please open a B2B Bank Chequing or High Interest Savings Account.

CDIC eligible
The CDIC protects eligible deposits up to a maximum of $100,000 (principal and interest combined) per depositor per insured category, having a term of five years or less. No need to sign up – B2B Bank is a CDIC member so coverage is free and automatic.1

Investment options
One to five year non-registered and non-redeemable terms to help your clients meet their savings goals2

Fund a GIC with a minimum of $100

Online
application
Apply in minutes.
All term GICs are non-registered and non-redeemable.
| | | |
| --- | --- | --- |
| TERM | MINIMUM | INTEREST RATE |
| 1 year | $100.00 | 1.70% |
| 2 years | $100.00 | 1.75% |
| 3 years | $100.00 | 1.80% |
| 4 years | $100.00 | 1.91% |
| 5 years | $100.00 | 1.95% |
For more information about B2B Bank GICs, call 1‑866‑334‑4434 or email questions@b2bbank.com.
1 Rates as of April 1, 2020. All rates are subject to change at any time without prior notice. Interest rates are per annum. Interest is either compounded annually (paid at maturity) or paid annually to the B2B Bank account of your choice. Interest rates and initial investments are applicable for B2B Bank GICs purchased via onlinebanking.b2bbank.com only.
Bank with us
For your daily banking needs, we offer simple banking solutions that provide you with convenient online access to your accounts.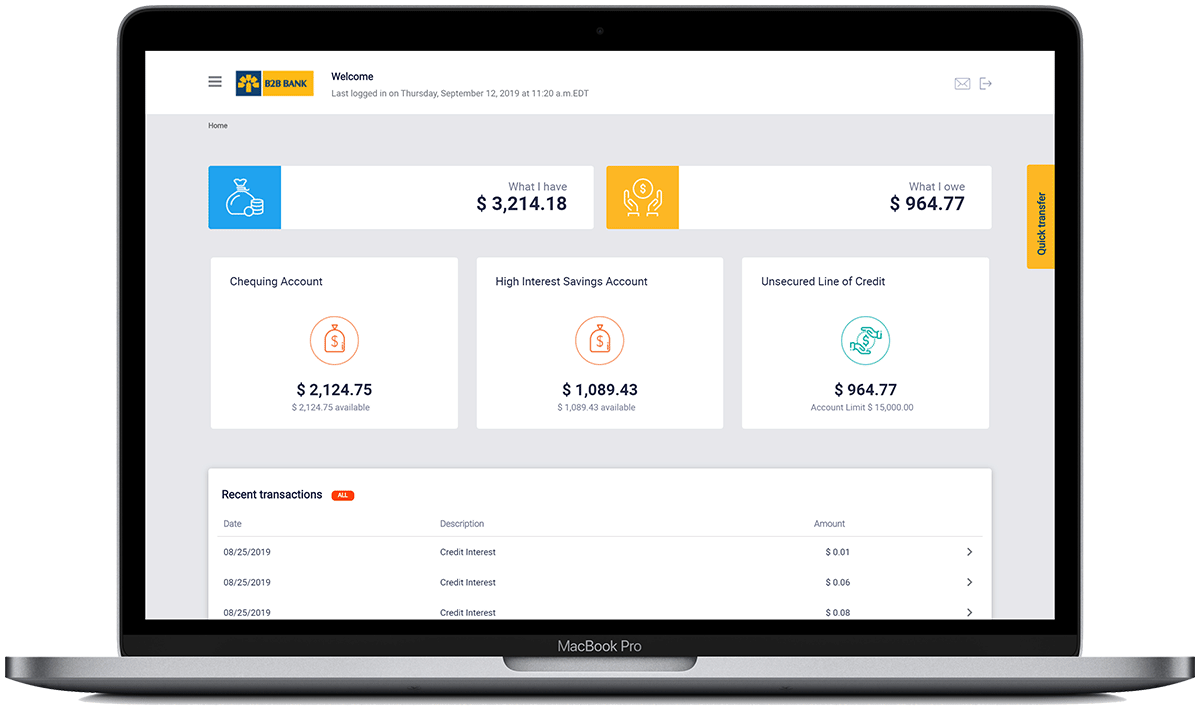 What makes B2B Bank different
You're independent. Your finances should be too.
At B2B Bank, we believe that all Canadians should have access to a financial professional because the right financial advice and a sound financial plan is vital for financial health.
1 B2B Bank is a member of the CDIC. To be eligible for deposit insurance, deposits must be held in Canadian currency and payable in Canada. To find out more about deposit insurance from the CDIC, including what instruments and/or products are eligible for deposit insurance, visit cdic.ca or call 1-800-461-CDIC (2342). For a copy of the CDIC brochure Protecting Your Deposits, visit b2bbank.com.
2 All GICs invested in via onlinebanking.b2bbank.com are non-registered and non-redeemable.